Makeup holds a significant role in the overall bridal look, and for a daytime wedding bride, it becomes crucial to strike the perfect balance between elegance and subtlety. Unlike evening affairs that often call for bolder and dramatic makeup, daytime weddings demand a softer and more natural approach. The aim is to enhance the bride's natural beauty while radiating a fresh and effortless glow.
Enhancing the Eyes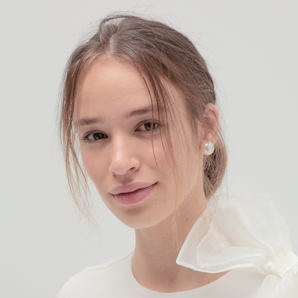 The eyes are often considered the windows to the soul, and on your wedding day, you'll want them to shine bright with a soft and alluring charm. For daytime weddings, it's best to opt for natural-looking eyeshadow shades that complement your skin tone and overall bridal aesthetic. Think soft neutrals like warm browns, delicate pinks, and subtle golds that effortlessly blend with the daylight.
To achieve a subtle wash of color on the eyelids, lightly sweep your chosen shade across the entire lid using a fluffy eyeshadow brush. The key is to create a soft and seamless transition, allowing the color to enhance your eyes without overpowering them.
Next, define your eyes with a touch of soft eyeliner or tightlining. Opt for shades like brown or charcoal gray to maintain a natural appearance. Apply the liner close to the lash line, focusing on the outer corners to add subtle definition. This technique will make your lashes appear fuller and your eyes more captivating.
Curling your lashes can instantly open up the eyes and give them an awake and vibrant look. Invest in a good quality eyelash curler and gently clamp it at the base of your lashes for a few seconds. Follow up with a coat of mascara, focusing on both the upper and lower lashes. Choose a mascara that provides length and separation without clumping, ensuring a natural and fluttery effect.
For added definition and drama, consider using individual false lashes. Opt for shorter and more natural-looking ones to maintain the subtlety of the overall look. Apply them sparingly to the outer corners of the eyes for a delicate and romantic touch. This step is optional but can elevate your eye makeup to the next level.
Creating a Flawless Glow
A radiant and flawless complexion is a bride's best accessory, especially for a daytime wedding. To achieve that coveted bridal glow, it's essential to focus on enhancing your skin's natural radiance while keeping the makeup light and airy. Here are some key steps to create a flawless glow for your special day.
Start by choosing a natural-looking blush shade that complements your skin tone. Soft, rosy pinks, peachy hues, or light coral shades work beautifully for daytime weddings. Avoid shades that are too bold or intense, as the goal is to create a subtle flush of color that mimics a natural and healthy glow.
When applying blush, concentrate on the apples of your cheeks. Smile gently, and with a fluffy blush brush, lightly sweep the blush in a circular motion on the rounded areas of your cheeks. This technique will give you a fresh and youthful appearance, adding a touch of vitality to your overall look.
To enhance your natural glow, incorporate a subtle highlighter into your makeup routine. Choose a shade that matches your skin undertone and has a soft, luminous finish. Apply the highlighter to the high points of your face, such as the cheekbones, bridge of the nose, cupid's bow, and the inner corners of your eyes. This will impart a subtle and ethereal glow, catching the light as you move throughout the day.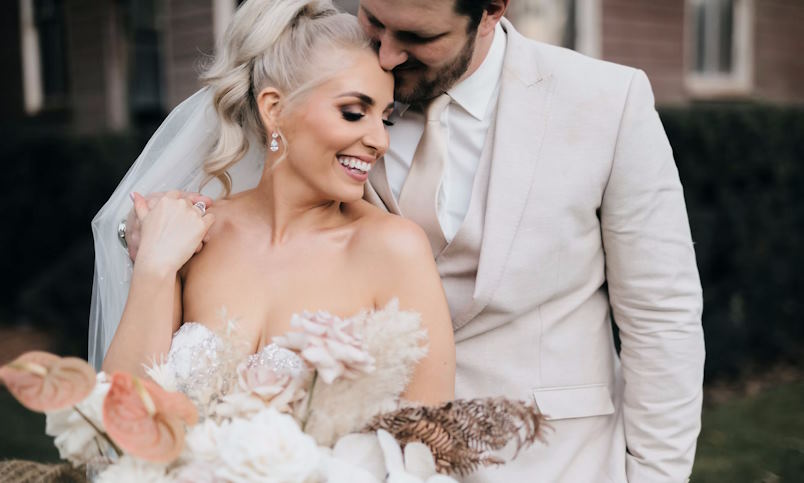 Final Tips and Considerations:
As you prepare for your daytime wedding, there are a few essential tips and considerations to keep in mind to ensure your makeup is perfect for your special day.
Coordinating your makeup with the overall wedding theme and attire is crucial. Consider the color palette, style, and ambiance of your wedding when selecting your makeup look. Soft and subtle makeup tends to work well with various themes, but be mindful of any specific color schemes or styles that you want to incorporate to maintain a cohesive and harmonious aesthetic.
Weather conditions and location play a significant role in your makeup choices. If you're getting married outdoors or in a warmer climate, opt for long-lasting and sweat-resistant formulas to ensure your makeup stays intact throughout the day. Consider using a primer to create a smooth canvas and a setting spray to lock in your makeup, especially in humid conditions.
Your personal preferences and comfort should always be prioritized. While it's important to consider trends and recommendations, don't be afraid to stay true to your own style and comfort level. If you're not accustomed to wearing heavy makeup, embrace a more natural and minimalistic approach. Feeling confident and comfortable in your own skin will shine through on your wedding day.
Conducting a makeup trial before the big day is essential to ensure you're happy with the final look. Schedule a trial with your makeup artist or experiment with different looks if you're doing your own makeup. This will allow you to make any necessary adjustments, communicate your preferences, and ensure a smooth and stress-free experience on your wedding day.