As the spotlight shines on the bride, every detail matters when it comes to achieving the perfect wedding day look. One element that has captured the hearts of brides and hairstylists alike is the art of intricate braids. These elegant and versatile hairstyles have been gaining immense popularity, adding a touch of romance, sophistication, and bohemian flair to bridal ensembles. Whether you're a bride-to-be seeking inspiration or a hairstylist looking to master the art of braided hairstyles, this article will guide you through a collection of stunning braided wedding hairstyles. From traditional French and fishtail braids to romantic updos, boho-chic waves, and glamorous twists, these braided beauties are bound to make a lasting impression on your special day. Get ready to discover the enchanting world of braided wedding hairstyles and elevate your bridal look to new heights.
Romantic Braided Updos
When it comes to creating a dreamy and ethereal bridal look, romantic braided updos are the way to go. These hairstyles exude elegance and grace, making them a perfect choice for brides seeking a timeless and sophisticated appeal. Here are two stunning braided updo styles that will make you feel like a princess on your special day.
Braided Crown Updo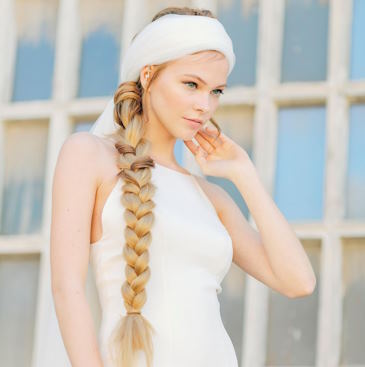 For a regal and romantic hairstyle, the braided crown updo is a perfect choice. Here's how to achieve this enchanting look. Begin by parting your hair in the middle and dividing it into two equal sections. Take one section and start braiding from the front, incorporating small strands of hair as you move towards the back of your head. Repeat the same process on the other side. Once both braids are complete, bring them towards the back of your head and secure them with bobby pins, creating a crown-like effect. To add a whimsical touch, accessorize the braided crown with delicate flowers, sparkling jewels, or dainty hairpins. This will enhance the romantic vibe and complement your overall bridal ensemble.
Braided Bun with Twisted Elements
For a romantic updo with a twist, opt for a braided bun with twisted elements. This style adds texture and dimension, creating a visually stunning hairstyle. Start by gathering your hair into a high ponytail and securing it with an elastic band. Divide the ponytail into two sections and twist them individually. Then, twist the two sections together to form a rope-like effect. Wrap the twisted ponytail around the base to create a bun and secure it with bobby pins. Now, take smaller sections of hair from the front and sides and braid them. Gently wrap these braids around the base of the bun, intertwining them for an intricate look. Finish off the style by securing any loose strands with pins and applying a light hold hairspray for a long-lasting hold.
Boho-Chic Braided Hairstyles
If you're a bride who wants to embrace a free-spirited and effortlessly beautiful vibe on your wedding day, boho-chic braided hairstyles are the perfect choice for you. These hairstyles combine whimsical braids with loose waves, creating a look that is both romantic and bohemian. Here are two stunning boho-chic braided hairstyles that will make you feel like a boho goddess on your special day.
Waterfall Braid with Loose Waves
The waterfall braid is a captivating and intricate style that perfectly embodies the bohemian spirit. To create this ethereal look, start by parting your hair to one side. Take a small section of hair from the front and divide it into three strands. Begin a regular braid, crossing the outer strands over the middle strand. As you continue braiding, drop the bottom strand and pick up a new strand of hair from underneath. This dropped strand creates the cascading effect, resembling a waterfall. Continue braiding along the hairline, incorporating new strands from the top and dropping strands from the bottom. Once you reach the back of your head, secure the braid with a clear elastic band. Complete the boho-chic look by adding loose waves to the rest of your hair. Use a curling iron or hot rollers to create soft and natural waves that complement the waterfall braid beautifully.
Half-Up Boho Braided Hairstyle
For a boho-chic hairstyle that exudes romance and whimsy, try a half-up braided hairstyle. Begin by sectioning off the top half of your hair, leaving the remaining hair loose. Take a small section from one side and start braiding it towards the back of your head. Secure the braid with a bobby pin. Repeat the same process on the other side, creating a symmetrical look. For added boho flair, incorporate small flowers or hair accessories into the braids. To complete the style, leave the remaining hair loose and create loose waves or curls for a relaxed and bohemian feel. This half-up boho braided hairstyle strikes the perfect balance between bohemian charm and effortless elegance.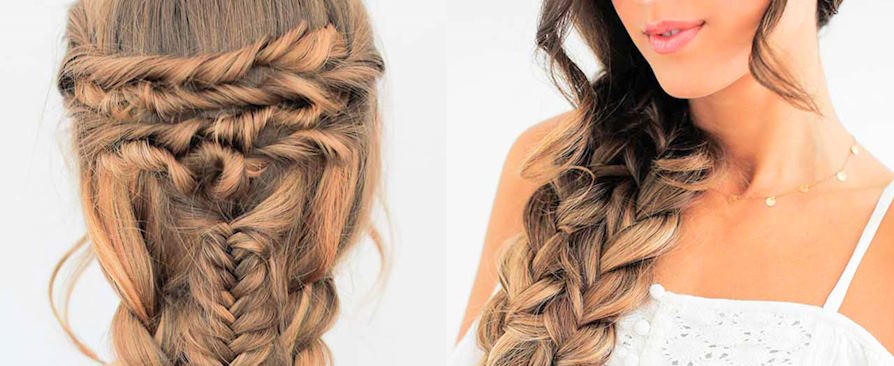 Tips for Achieving the Perfect Braided Wedding Hairstyle
When it comes to creating the perfect braided wedding hairstyle, there are a few key tips to keep in mind. From considering your dress style to using the right hair products, these tips will ensure that your braided look is flawless and long-lasting.
Consider the Dress Style and Overall Theme of the Wedding
Before selecting a braided wedding hairstyle, take a moment to consider your dress style and the overall theme of your wedding. If you have a bohemian-inspired dress or a rustic-themed wedding, opting for loose and undone braids would complement the aesthetic perfectly. On the other hand, if you have a classic and elegant dress or a formal affair, a sleek braided updo would be more fitting. Matching the hairstyle to the dress and theme will create a cohesive and harmonious bridal look.
Consult with a Professional Hairstylist for Personalized Recommendations
To achieve the perfect braided wedding hairstyle that suits your face shape, hair texture, and personal style, it's highly recommended to consult with a professional hairstylist. They can offer personalized recommendations based on your specific features and preferences. A skilled hairstylist will also have the expertise to bring your vision to life and ensure that the braids are executed flawlessly.
Schedule a Trial Run Before the Wedding Day
To avoid any surprises or last-minute changes, schedule a trial run for your braided wedding hairstyle. This will give you an opportunity to test out different braided looks, discuss any adjustments with your hairstylist, and make sure you're completely satisfied with the final result. It's essential to bring reference photos and communicate your expectations during the trial run, ensuring that you and your hairstylist are on the same page.
Use Quality Hair Products and Accessories for Long-lasting Results
To ensure that your braided wedding hairstyle stays intact throughout the day, invest in high-quality hair products. Use a lightweight hairspray to set the braids and keep them in place without weighing them down. Additionally, consider using hair accessories such as bobby pins, decorative clips, or delicate flowers to enhance and secure the braids. Opt for accessories that complement your overall bridal look and won't cause discomfort or damage to your hair.