On the most special day of their lives, brides strive for perfection from head to toe, and their hairstyle plays a pivotal role in achieving that desired bridal allure. Among the many accessories that can transform a bridal hairstyle into a breathtaking masterpiece, veils and tiaras reign supreme. Veils add an air of mystique and tradition, while tiaras exude regal elegance.
Classic Elegance: The Timeless Beauty of Updos with Veils
The charm of traditional updo hairstyles:
When it comes to exuding grace and sophistication, few hairstyles rival the timeless appeal of classic updos. These elegant updos effortlessly elevate the bride's look and provide a perfect canvas for showcasing the beauty of veils. The sleek and polished nature of updos lends an air of refinement, making them an ideal choice for traditional weddings or formal affairs. With their ability to create a sense of poise and elegance, updos have long been favored by brides seeking a sophisticated and timeless bridal hairstyle.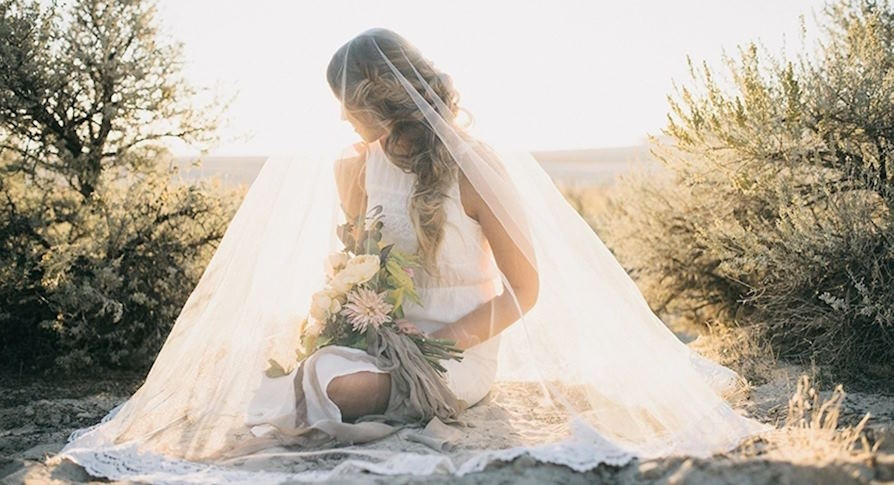 Different variations of updos with veils:
Low bun with a trailing veil: This iconic updo is characterized by a beautifully positioned low bun at the nape of the neck. Paired with a trailing veil, it exudes an air of classic elegance. The simplicity of the bun allows the veil to take center stage, gracefully cascading down the bride's back and creating a breathtaking visual effect.
Chignon with a delicate lace veil: The chignon is a versatile updo that can be tailored to suit various bridal styles. When paired with a delicate lace veil, this hairstyle exudes romance and sophistication. The intricate details of the lace veil complement the intricacies of the chignon, creating a stunning focal point that is both timeless and alluring.
Braided updo with a cathedral-length veil: For brides seeking a more intricate and ethereal look, a braided updo combined with a cathedral-length veil is an excellent choice. The artful weaving of braids adds texture and visual interest to the hairstyle, while the cascading veil adds drama and grandeur. This combination creates a regal and unforgettable bridal look.
Tips for choosing the right veil to complement the hairstyle:
When selecting a veil to complement your updo, it's essential to consider factors such as length, fabric, and embellishments. For low buns, veils with dramatic lengths, such as fingertip or cathedral, create a striking contrast. Delicate lace veils are ideal for adding a touch of romance and vintage charm to chignons. Braided updos can be enhanced with veils that feature subtle embellishments, such as crystal accents or lace appliqués, to create a harmonious balance. Additionally, consulting with a hairstylist or bridal consultant can provide invaluable guidance in choosing a veil that perfectly complements your chosen updo hairstyle.
Personalizing Your Bridal Hairstyle: Veils, Tiaras, and Beyond
Encourage brides to consider their individual style and personality:
Your wedding day is a reflection of who you are, and your bridal hairstyle should be no exception. Embrace your individual style and let it shine through your choice of accessories. Consider your personality, wedding theme, and personal preferences when selecting the perfect adornments for your hair. By infusing your own unique touch, you can create a bridal hairstyle that is a true representation of your inner beauty.
Alternative accessories to veils and tiaras:
While veils and tiaras have long been cherished bridal accessories, there are countless alternatives that can add a touch of charm and personality to your hairstyle.
Flower crowns for a boho-inspired look: Embrace your free-spirited side with a stunning flower crown. Whether you opt for fresh blooms or delicate faux flowers, a flower crown adds a whimsical and romantic touch to any hairstyle. Perfect for boho or outdoor weddings, it effortlessly brings a natural and ethereal beauty to your bridal look.
Hair vines or combs for a delicate touch: For a more delicate and understated accent, consider hair vines or combs. These intricate accessories can be woven through your hair or elegantly placed to add a subtle sparkle or touch of floral elegance. They provide versatility, allowing you to create a customized look that complements your hairstyle effortlessly.
Statement headpieces for a bold and unique statement: If you're a bride who wants to make a bold statement, opt for a statement headpiece. From crystal-encrusted headbands to elaborate jeweled pins or even a unique vintage find, these headpieces add a touch of glamour and individuality to your bridal ensemble.
Tips for coordinating the hairstyle with the chosen accessories:
To achieve a cohesive and harmonious bridal look, it's important to consider how your chosen accessories will complement your hairstyle. Ensure that the size, shape, and style of the accessory work in harmony with your hairstyle. For example, if you have chosen a voluminous updo, a smaller and more delicate accessory will provide an elegant touch without overwhelming the hairstyle. Additionally, consider the color palette of your accessories and how they will blend with your gown and overall wedding aesthetic.
Consulting with your hairstylist or seeking the advice of a bridal accessory expert can provide valuable insights on how to coordinate your hairstyle with the chosen accessories. By carefully selecting and coordinating these elements, you can create a bridal hairstyle that not only reflects your unique style but also showcases your personality and individuality on your special day.