When it comes to planning a wedding, busy brides often find themselves juggling countless tasks and responsibilities. Amidst the chaos, finding the time and energy to create an elaborate and high-maintenance hairstyle can feel overwhelming. That's where the concept of effortless elegance comes into play. We understand the importance of looking and feeling fabulous on your special day without adding unnecessary stress. From chic updos to simple half-up styles and elegant down hairstyles, we have curated a collection of effortlessly beautiful options that will make you feel like the radiant bride you deserve to be. So, let's dive in and discover the secrets to achieving effortlessly elegant wedding hairstyles for the modern, busy bride.
Effortless Updos for Busy Brides
Classic low bun:
When it comes to timeless elegance, the classic low bun is a go-to choice for many busy brides. This sophisticated updo exudes grace and simplicity, making it a perfect option for those with packed schedules. To create a sleek low bun, start by gathering your hair into a low ponytail at the nape of your neck. Secure it with a hair elastic, and then twist the ponytail around its base to form a bun. Use bobby pins to secure the bun in place, tucking away any loose strands. To enhance the elegance of this hairstyle, consider adding a delicate hair accessory, such as a bejeweled hairpin or a floral clip, to complement your bridal look.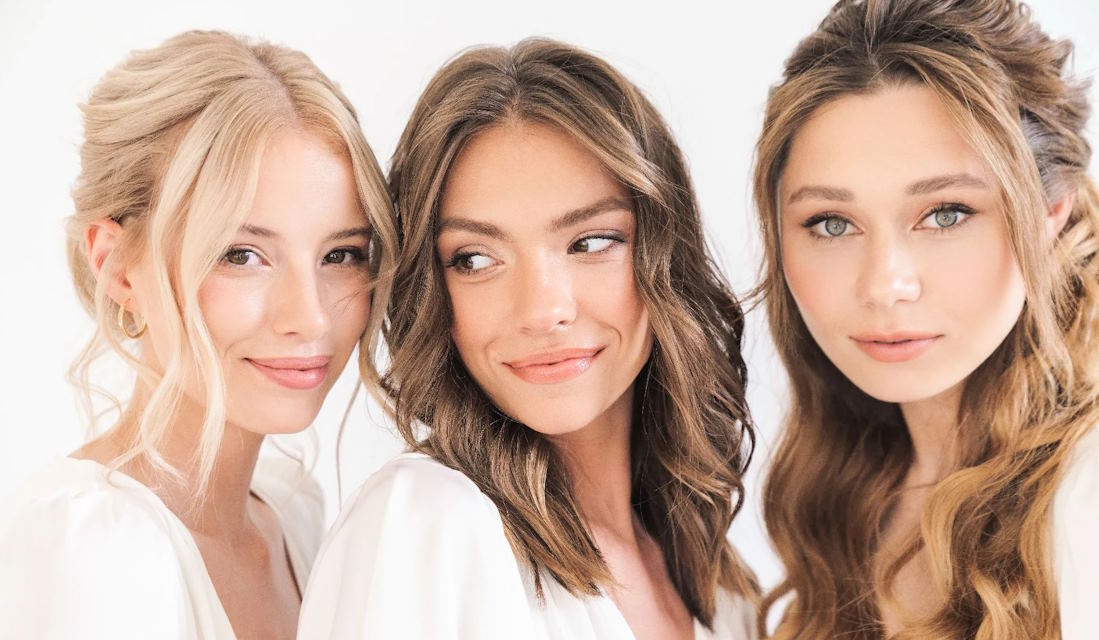 Messy updo with loose tendrils:
For a relaxed and romantic look, opt for a messy updo with loose tendrils. This effortlessly chic hairstyle adds a touch of whimsy and softness to your overall bridal ensemble. Begin by creating loose curls or waves in your hair using a curling iron or hot rollers. Next, gather your hair into a loose bun or twist at the back of your head, leaving a few face-framing tendrils free. Secure the updo with bobby pins, allowing some strands to fall naturally for a soft and tousled effect. To accentuate this style, consider incorporating hair accessories such as delicate floral pins or small crystal clips. These accessories will add a touch of sparkle and charm to your messy updo.
Braided crown:
If you're aiming for a boho-inspired and ethereal look, a braided crown is the perfect choice. This hairstyle creates a halo effect and beautifully complements various hair lengths. To achieve this look, part your hair down the center and create two sections. Start by braiding one section of hair, beginning at the temple and moving towards the back of your head. Repeat the process on the other side. Once both braids are complete, bring them around the back of your head, crossing them over each other to form a crown-like shape. Secure the braids with bobby pins, hiding the ends beneath the opposite braid. For added texture and dimension, gently pull on the edges of the braids to loosen them slightly. This boho-inspired braided crown is an effortlessly elegant choice for busy brides seeking a touch of whimsy on their special day.
Simple and Chic Half-Up Hairstyles
Half-up twist:
If you're looking for a modern and stylish half-up hairstyle, the half-up twist is a fantastic option. This hairstyle strikes the perfect balance between sophistication and simplicity. To create the half-up twist, start by sectioning off the top half of your hair, leaving the bottom half down. Take a small section from one side of the top section and twist it away from your face. Secure it with a bobby pin near the back of your head. Repeat the process on the other side, twisting the hair in the opposite direction and securing it with a pin. This creates a twisted effect that adds dimension and interest to your hair. To elevate this hairstyle further, consider incorporating hair accessories such as jeweled pins or a dainty headband. These accessories can add a touch of sparkle and enhance the overall chicness of the look.
Half-up with a decorative braid:
For brides seeking sophistication and a touch of intricate detail, a half-up hairstyle with a decorative braid is an excellent choice. This hairstyle works well with various hair types and lengths, making it versatile and accessible to many brides. Begin by parting your hair down the middle and gathering a small section of hair from the front on one side. Create a traditional three-strand braid, adding small sections of hair as you move towards the back of your head. Secure the braid with a small elastic band. Repeat the process on the other side. Once both braids are complete, bring them together at the back of your head, securing them with bobby pins to form a half-up style. This elegant hairstyle adds a touch of sophistication and can be enhanced further with the addition of decorative pins, flowers, or delicate ribbons.
Half-up top knot:
When time is of the essence and you need a quick yet trendy hairstyle, the half-up top knot is the perfect go-to option. This effortless and chic hairstyle adds a playful touch to your bridal look without sacrificing elegance. To create a half-up top knot, start by gathering the top section of your hair into a high ponytail on the crown of your head. Twist the ponytail and wrap it around its base to form a knot. Secure the knot with bobby pins, making sure it feels secure. To achieve a polished and effortless look, gently tug on the sides of the knot to loosen it slightly, creating a fuller appearance. This hairstyle can be customized with various accessories, such as decorative hair ties or a dainty hairpin placed near the knot. Embrace the simplicity and trendiness of the half-up top knot for a hassle-free yet fashionable bridal hairstyle.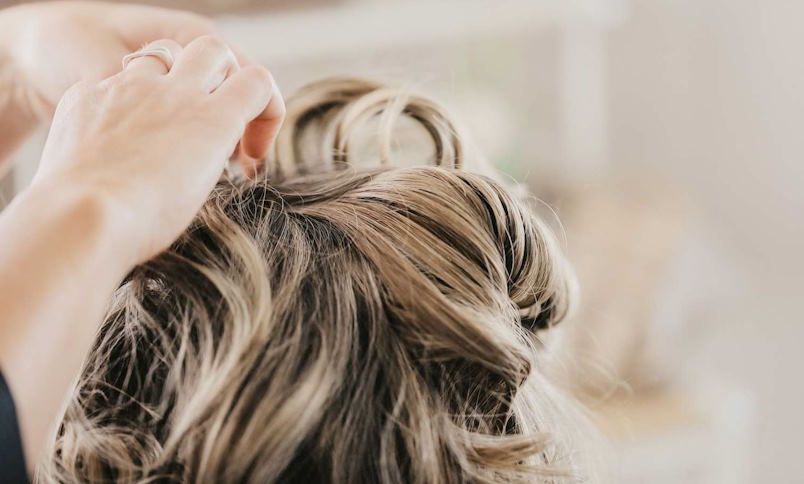 Practical Tips for Low Maintenance Wedding Hairstyles
Pre-wedding hair care routine:
Achieving low maintenance wedding hairstyles starts well before your big day. Implementing a pre-wedding hair care routine will ensure your locks are healthy, nourished, and ready for styling. Prioritize regular deep conditioning treatments and trim any split ends to maintain hair health. Additionally, consider adjusting your diet to include foods rich in vitamins and minerals that promote hair strength and shine. Stay hydrated and minimize the use of heat styling tools to avoid unnecessary damage. By caring for your hair in advance, you'll create a strong foundation for low maintenance wedding hairstyles that will withstand the demands of the day.
Choosing long-lasting hair products:
When selecting hair products for your wedding day, opt for long-lasting formulas that will keep your hairstyle intact from morning till night. Look for hairsprays and styling products labeled as "firm hold" or "all-day hold" to ensure longevity. Consider using a primer or styling cream before styling to enhance manageability and hold. Additionally, choose products that match your hair type and desired style, such as volumizing mousse for fine hair or smoothing serum for frizzy locks. By investing in high-quality, long-lasting hair products, you'll minimize the need for touch-ups and enjoy a low maintenance hairstyle that lasts throughout your special day.
Incorporating hair accessories for effortless elegance:
Hair accessories are a fabulous way to elevate your low maintenance wedding hairstyle with effortless elegance. From delicate pins and combs to ornate headbands and floral crowns, the options are endless. Consider the overall theme and style of your wedding when selecting accessories. For a boho-inspired wedding, opt for floral accents or a natural-looking crown. If your wedding has a glamorous theme, consider jeweled hairpins or a sparkly headband. These accessories effortlessly enhance your hairstyle and can add a touch of personal flair. Experiment with different options during your hair trial to find the perfect accessory that complements your low maintenance wedding hairstyle.